Pickups of Bounce Houses, Water Slides and More
These items have been specifically chosen from our rental catalog for their easy of use and transport.

We offer customer pickup of bounce houses, bounce houses with slides, water slides, popcorn machines, cotton candy machine, snow cone machines (and the servings to make them).

We also offer our tables and chairs for pickup which makes it great if you only need to add a few chairs or a table for a family gathering.

From our online reservation process through delivery, we strive to keep the process simple and easy. We are licensed and insured, our staff has years of experience, and we only provide safe, clean, and commercial grade equipment.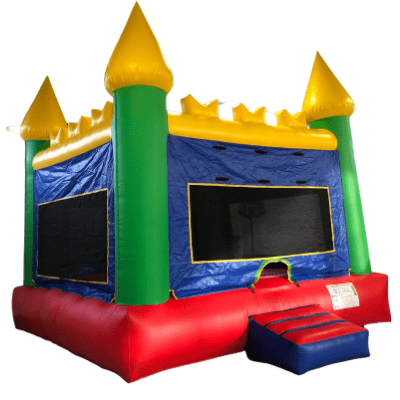 Featured Customer Pickup:
15ft Bounce Castle Moonwalk
This 15ft Bounce Castle Moonwalk offers a spin on the classic moonwalk with a castle look. There are four towers and an amazing bounce platform. This bouncer can accommodate up to 6 riders at once.

This bounce house rental is easy to transport in an SUV or truck and is a breeze to set up for your party or event.
Book Now!
Same Day Pickups Available.
Knowledgeable Staff Will Show You How To Safely Setup, Operate and Roll Your Rented Inflatable.
Items Selected For Ease of Use.
Our Products Are Cleaned And Sanitized After Each Use.
You Can Keep Your Rental Items For 4 Days for The Price Of 1 (compared to us delivering).
We Have Years Of Experience In Party Rentals
Customer pickups made simple and safe for all party rental items
The PlayGround Games has always made planning your party rentals easy with our 24/7 online ordering. With our customer pickups, we have also made renting inflatables, tables, chairs and concessions even better. We offer up to a 4 day rental at the price of a 1 day (example: Friday - Monday). Our products are clean, easy to use, and a ton of fun for everyone!
If you are looking to save money and keep your rental item for a longer period of time, Customer Pickups are a great option for you.
How does it work?


Select any of our customer pickup items using our reservation system.


Pick the date you'd like to pickup.


Select the date you will return the item (up to 4 days later for the shown price).


Input your information, and where the event will be held.


Pay a small deposit or choose to pay in full.


That's it. Your item is reserved.
Pickup
On the day of your rental, you come to our warehouse and pick up your rented items. Our staff will walk you through how to set everything up and operate all of your items safely. We will also discuss how to roll the item so you can safely and easily transport it back to us. We will also answer any questions you may have. After that, we will send you on your way and you get to enjoy the items for up to 4 days!
Return after your rental
At the end of your rental period, you bring your items back and we run you through the return process and get you on your way.
We do recommend that you bring a truck or SUV for transport of our items, but we can also load them on a trailer for you if you choose to use one. Unfortunately, we cannot load any of our inflatables into any sedan or smaller car. They just won't fit and we don't want to damage your car or our equipment forcing it in. And chances are, you don't either.
These are not items you'd find at a local retailer that are made of materials designed for home use and don't include the latest in safety and other features designed for long-term use. All of our customer pickup items are specifically chosen from our inventory of rental items. They are some of the same units we deliver to customers. They are all commercial grade and include all of the latest features to ensure you get the same safe items you'd be able to get if we delivered them to you.
We also have chosen these items based on what a homeowner can handle. You will not find items here that cannot be safely set up and used without professional delivery. If you are looking for a 20 foot slide, you'll want to check out our other categories. We do have them, but they require special setup and are just too large for anything other than a professional delivery and setup.
The biggest benefit is you get to keep your rental for 4 days as opposed to our daily rentals which only get the item for 8 hours.
All of our rental items (customer pickups and those we deliver) go through the same cleaning process. We clean and sanitize items after each rental to be sure you get a safe item. This gives you peace of mind knowing that your little ones are having fun on equipment that is clean, safe and sanitized.
It is important to us that we only offer bounce houses, water slides and other rental items that we would trust our own children, family and friends to use. We only provide commercial-grade products that meet all of the established safety standards for the party rental industry. The PlayGround Games entire staff is in the business of providing safe and fun items for parties. We never want to lose sleep worrying that we rented out an item that someone could get hurt using.
The Playground Games knows that you want to have fun with your children and other party guests and not spend a lot of time with a painful process of ordering your items. With our online ordering process, we have made it easy for the planning part of your party. Just add your items to your cart, fill out the customer and event information and pay a deposit. That's it. The planning is over. We take that same approach when you come to pick your items up and drop them off. We want to give you the time you need to safely set up and operate your equipment. When you bring it back, we will get you unloaded, checked in and back on your way quickly as well.
Should you have any questions, you can give us a call during normal business hours and a member of our team will be glad to assist you!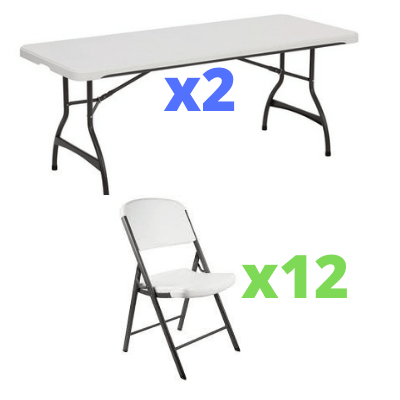 Table and Chair Package
2 Tables and 12 Chairs White
This package includes 2x 6ft folding tables and 12x folding chairs (White color)

This 6 foot (72 inches) Plastic White Folding Table is great for events, graduations, corporate events, or backyard parties. Can seat 6 to 8 chairs. Need a place to hold presents, food or somewhere to eat? Here's the answer.

This Plastic White Folding Chair is great for events, graduations, corporate events, or backyard parties.

Customer Pick Up
Book Now!
Yes, We Have Customer Pickups For Party Rental Items Near You!
Looking for bounce house rentals? Well, you have come to the right place. The PlayGround Games is a guaranteed hit! From our warehouse in Wheeling, we have been providing fun party rentals for Chicago and its surrounding areas for years. We specialize in party rentals for events such as but not limited to backyard parties, school festivals, birthday parties, church carnivals, high school. We offer customer pickups for bounce houses, bounce and slide combination units, water slides, tables, chairs and concession machines to make party snacks.
If you're looking for larger items or would rather we deliver the items, we can take care fo that too. We bring the fun with
Bounce Houses
,
Bouncers with Slides
,
Water Slides
and
Inflatable Dry Slides
,
Inflatable Interactive Games
,
Obstacle Courses
,
Carnival Games
,
Glow Inflatables
and
Carnival Games
,
Concession Machine Rentals
. To give your party another level of enjoyment, we also offer
table and chair rentals
, and
event equipment rentals including
professional lighting and audio,
photo booths
, and even
generators
to power it all.
Frequently Asked Questions About Customer Pickups