Water Slides

Displayed Pricing = Up to 6 hours rentals
GREAT VALUE = Overnight only 25% more
BEST VALUE = Friday - Sunday Just 50% More

**For orders that need to be picked up or delivered outside our normal hours, please give our team a call at 847-373-6925.**
Sorry, this item is not available either because the particular order options (customer pickup) are not available for this item or because the date and/or time you have selected are not available. If you have any questions, please call our office at ...
Inflatable Water Slide Rentals for Any Party!
Are you looking to beat the summer heat in the Midwest? At Playground Games, we are a family owned and operated business. We offer the largest inventory of water slide rentals in the Midwest. Check out our inventory of water slide rentals, wet ride rentals, and dunk tanks! We have items that give you a blast of cool water, excitement, and are just the right way to give you relief while you enjoy your time with loved ones.

Inflatable water slide rentals are great for all special occasions including birthday parties, church carnivals, school festivals, bar mitzvahs, graduation parties, corporate events and more! We have a wide selection you're looking for! Whether you are looking for something small or a thrilling water slide, we got you covered.

If you are ready to book, simply add it to your cart, and make a reservation. If you have the room and are looking for extra thrills for older participants, we have large waterslide rentals and Dunk Tanks. Tight on space or have younger riders? Our smaller slides and wet combos are great water slides for the little ones. Water slides provide all the smiles and thrills of an awesome water park without any of the travel. There are also several inflatable Slip N Slide rentals available.

Click here to make a reservation!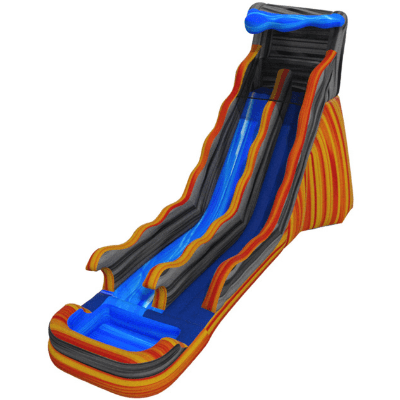 Featured Water Slide Bounce House for Rent
This attention-getting colorful 20ft Flammin Volcano Single Lane Water Slide with Pool is sure to be the center of attention at any type of event. The single lane is a drop slide, which is super fast! The 20ft Flammin Volcano Single Lane Water Slide with Pool is a perfect ride for large crowds and competitive spirits looking to race up and down the slide. Its "no-jump" safety meshes at the top and high inflatable sidewalls ensure that riders enjoy the slide safely.

Take the plunge and fly down the incredible water slide rental as you hurl into the abyss below. At the bottom, you'll be greeted by a gentle and refreshing splash.

Experience fun as you and your party guests enjoy one of Chicago's coolest water slides! Order this popular slide today.

Featured

River Blue and Flammin Volcano colors are perfect for any theme, Luau, or looking to make a splash with your guests!
Inflated, cushioned sides for increased safety
Commercial grade vinyl
Netting at the top to prevent children from standing
Huge, 20ft slide with a steep angle for faster rides!
Book Now
Bounce House with Slide
and Water Slide Rentals
Check out these super cool inflatable rentals that can be used wet!

We have a water bounce house with a sports theme that has obstacles, a basketball hoop, climbing wall, a slide, a bouncing area, and more. Elevate your next birthday party with this awesome water bounce house rental and water your kids have a blast!

And if that wasn't cool enough, we just introduced one of Chicago's coolest Dinosaur themed inflatable water slide rentals around. It stands at a towering 19ft tall, has a steep drop, and when you make the commitment to go down, your thrill seekers will get a big splash at the end when they land in the drop down pool.

Enjoy this summer with any of these great waterslide rentals!
Easy Online Ordering & Perfect for All Occasions
Select the Date and Times of your party or event.
Everything displayed after date selection is AVAILABLE for rent.
Select the items you are interested in.
Input your information, as well as where the event will be held.
Pay a small deposit or pay in full.
Instant order confirmation = Peace of Mind
Best Spots for a Water Slide Rental?
Backyard Parties
School Events
Mitzvahs
Church Festivals
Sporting Events
and More!
Chicago's Best Water Slide Jumpers
Think of a time where you thought a water slide would be a bad idea for a summer party. You can't right? That's because water slide jumpers and slip and slide rentals have always been the highlight of any party, guaranteed! Adults and children alike love to rent water slides for their birthdays, graduation parties, or bar mitzvah. The PlayGround Games has you covered!
The PlayGround Games has a water slide rental for any occasion. Cool off with our 19 foot tall
Arctic Blast Water Slide Rental
or have a Jurassic Park themed party that slides into a pool with our
Tropical Blast Dual Lane Water Slide with Pool
.
In addition to our great selection of water slide bounce houses, we have free delivery and the best value in the Greater Chicago Area.
Party more and spend less with PlayGround Games and book your party a water slide today!
Do You Deliver Water Slide Rental Near Me?
The answer is
YES
! At PlayGround Games we serve thousands of Chicagoans every year! With our delivery only business model, we make sure that all of our party rental is always near you. We make ordering, scheduling, and delivery simple from the comfort of your home so you don't need to wake early in the morning to pick up a heavy slide like those other guys. We span as far south of Naperville to as far north as Racine, Wisconsin! We service
Cook County
,
Lake County
,
Dupage County
,
Kane County
,
Mchenry County
, and more! Check out our
Delivery Areas
for more information! With our Free Delivery for
Water Slide
,
Bounce House
,
Inflatable Bounce House with Slide
,
Obstacle Course
,
Inflatable Interactive Games
,
Inflatable Interactive Games
,
Arcade Games
,
Glow Inflatable
,
Inflatable Slide
,
Carnival Games
,
Photo Booth
, and
Event Equipment
, you can't go wrong. Choose from the highest rated and best value driven company in the Chicago area. Choose the PlayGround Games!
People That Rented Water Slides Also Shopped for: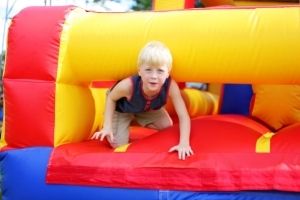 Obstacle Courses
Our obstacle courses are guaranteed fun for multiple people! Obstacle courses make great team-building activities for a company, sports team, or any group party!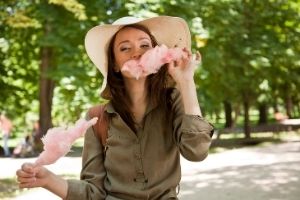 Party Snacks
No party is ever complete without snacks! Playground Games provides you with popcorn machines, cotton candy machines, and more. We have the carnival snack machines you will need!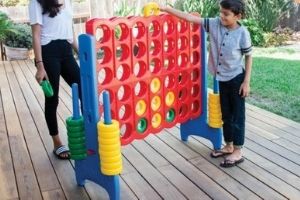 Party Games
It is better to have and not need than to need and not have. With PlayGround Games, we have all the equipment necessary to make sure your party is a hit!
Frequently Asked Questions About Water Slide Rentals
Why choose PlayGround Games?
PlayGround Games is Illinois premier choice for safe, clean and affordable entertainment for all ages. Throughout the years, we have provided fun at well over 2,000 parties, events, and special occasions. From birthday parties with 15 children, up to the Taste of Chicago where we often see 6,000 guests per day, we have an in depth knowledge of what it takes to create successful events each and every time. Our professional drivers and staff are friendly and the best trained in the industry. We always clean and inspect all of our equipment before allowing its use. We are licensed and insured for your safety. PlayGround Games is inspired by owner Ryan Miller's vision of entertainment in which everyone can participate. We believe that sharing our brand of fun fits directly in line with our company slogan Because Play ALWAYS Came First! When we consider inventory items, we know that there are consistent pieces which rent well that many of our industry friends have. We look for these in addition to revolutionary and unique items to set our offerings apart. Often times we have custom units that no one else offers. PlayGround Games is the first in the Midwest to offer glow inflatables for our events. Welcome to the PlayGround Games family! We look forward to your events.
What if we need to cancel my reservation?
24 Hour Risk-Free Cancellation: As part of our customer commitment, we offer a 24-hour risk-free cancellation policy which means that after you've placed your order, you have up to 24 hours to cancel for any reason and receive a full refund. No fees. No questions. 100% of the payment refunded back to the original payment method. Cancellation requests must be made by 11:59 p.m. the day after the order is placed. For example if an order is placed on Monday, you have until 11:59 p.m. on Tuesday to cancel the order. Requests must be made over the phone to 847-373-6925 or via email to info@thepggames.com. We will not accept a text or social media message. Our system will not accept a request based on this. *24 Hour Risk-Free Cancellation Policy is only available for orders placed online. CANCELLATION POLICY: All reservations require a non-refundable and non-transferable deposit in advance of the event. You may cancel your reservation, however, your deposit is non-refundable except in situations of our 24 Hour Risk-Free Cancellation. Deposits are 25% of the total cost of your invoice for events under $1,000.00, and 50% of the total cost of your invoice for events over $1,000.00. The remaining balance of your invoice is due fourteen (14) days prior to your event date. Cancellations processed outside fourteen (14) days of the rental period for any reason will result in the issuance of a "raincheck" or customer credit equal to the deposit required to book the event. If payments have been received that are higher than the deposit required to book the event, the excess will be refunded back to the original payment method. All cash payments will be refunded via check. Customers rain check will be equal to the amount paid for their order and made available for 1 year (365 days). For orders canceled within 14 days of the event date, the total amounts paid will be forfeit unless cancellation is due to inclement weather conditions - see below. -If you cancel 4 or more days prior to your reservation and have paid in full, we will apply the value to a new date within 1 calendar year (365 days) of your original event date. Time Period Refund/Raincheck Example Same Day Full Refund Amount paid = Amount refunded > 14 Days Full Refund Amount paid = "raincheck" or customer credit < 14 Days Full Refund Amount paid = "raincheck" or customer credit, remaining amount paid refunded. < 4 Days = value can be applied as credit for 1 year (365 days).
Are your inflatables clean and safe?
Yes. We use the safest designs made by reputable manufacturers. All of our inflatable rides pass the State of Illinois mandatory ride inspection. Each inflatable is cleaned and disinfected between rentals. They are inspected onsite to ensure they are safe and ready.
Yes and a great question to ask any inflatable rental business. If they do not, stay away! PlayGround Games is fully insured and inspected. We can provide a copy of the insurance policy upon request. For private clients, you may ask to be named additionally insured on our policy for a $50 fee. The lessee or customer shall be in charge of monitoring each unit, unless specified otherwise. PlayGround Games is not responsible for any injuries occurring to those using the rental equipment. As always, use at your own risk.
How do I make a reservation?
We've made it easy with online equipment reservations that are available 24/7 or you may call our office during business hours at www.thepggames.com. For large, multi-item events we recommend speaking with one of our friendly staff. Due to scheduling constraints, bookings for DJs are done only over the phone. A credit card is required to make online reservations.