Playground Games Service Area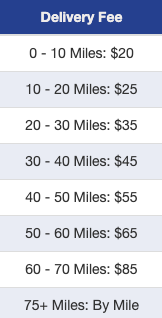 If you do not see your city included on the table above, no problem. Please inquire so we can offer an accurate delivery rate to service your event.

Step 1. Click Check Availability or the Calendar icon at the top of our website.

Step 2. Select the Date and Times of your event. Start and End time of your rental.

Step 3. Select the item(s) you are interested in and add them to the cart.

Step 4. Answer some simple event questions and input your billing information.

Step 5. Pay a small deposit or pay in full.


Order Now
Location
Zip Code
Travel Fee

Location

Algonquin, IL
Antioch, IL
Arlington Heights, IL
Bannockburn, IL
Barrington, IL
Beach Park, IL
Benet Lake, WI
Bristol, WI
Buffalo Grove, IL
Camp Lake, WI
Carpentersville, IL
Cary, IL
*Chicago - North Side
*Chicago Loop
*Chicago - West Side
Crystal Lake, IL
Deer Park, IL
Deerfield, IL
Des Plaines, IL
Evanston, IL
Elkhorn, WI
Elk Grove Village, IL
Fontana, WI
Fort Sheridan, IL
Fox Lake, IL
Fox River Grove, IL
Gages Lake, IL
Genoa City, WI
Gilberts, IL
Glencoe, IL
Glenview, IL
Golf, IL
Grayslake, IL
Great Lakes, IL
Green Oaks, IL
Gurnee, IL
Hainesville, IL
Harvard, IL
Hawthorn Woods, IL
Hebron, IL
Highland Park, IL
Highwood, IL
Hoffman Estates, IL
Huntley, IL
Ingleside, IL
Inverness, IL
Island Lake, IL
Johnsburg, IL
Kansasville, WI
Kenilworth, IL
Kenosha, WI
Kilder, IL
Lake Barrington, IL
Lake Bluff, IL
Lake Forest, IL
Lake Geneva, WI
Lake in the Hills, IL
Lake Villa, IL
Lake Zurich, IL
Lakemoor, IL
Lakewood, IL
Libertyville, IL
Lincolnshire, IL
Lindenhurst, IL
Long Grove, IL
Marengo, IL
McHenry, IL
Mt. Prospect, IL
Mundelein, IL
Naperville
New Munster, WI
Niles, IL
North Barrington, IL
North Chicago, IL
Northbrook, IL
Northfield, IL
Paddock Lake, WI
Palatine, IL
Park City, IL
Park Ridge, IL
Pell Lake, WI
Pingree Grove, IL
Pleasent Prairie, WI
Port Barrington, IL
Powers Lake, WI
Prospect Heights, IL
Richmond, IL
Ringwood, IL
Riverwoods, IL
Rolling Meadows, IL
Round Lake Beach, IL
Round Lake Heights, IL
Round Lake Park, IL
Round Lake, IL
Russell, IL
Salem, WI
Schaumburg, IL
Silver Lake, WI
Sleepy Hollow, IL
Skokie, IL
Somers, IL
South Barrington, IL
Spring Grove, IL
St. Charles, IL
Techny, IL
Third Lake, IL
Towers Lake, IL
Trevor, WI
Twin Lakes, WI
Union Grove, WI
Union, IL
Vernon Hills, IL
Volo, IL
Wadsworth, IL
Wauconda, IL
Waukegan, IL
West Dundee, IL
Wheeling, IL
Wildwood, IL
Wilmette, IL
Wilmot, WI
Winnetka, IL
Winthrop harbor, IL
Wonder Lake, IL
Woodstock, IL
Zion, IL

Zip Code

60102
60002
60004
60015
60010
60099
53102
53104
60089
53109
60110
60013
60610
60601
60606
60012
60010
60015
60016, 60018
60201
53121
60007
53125
60037
60020
60021
60030
53128
60136
60022
60025,60026
60029
60030
60088
60048
60031
60030
60033
60047
60034
60035
60040
60169, 60192
60142
60041
60010, 60067
60042
60051
53139
60046
53140
60047
60010
60044
60045
53147
60156
60046
60047
60050
60014
60048
60069
60046
60047
60152
60051
60056
60060
60440
53152
60714
60010
60064, 60085
60062
60093
53168
60067, 60074
60085
60068
53157
60140
53158
60010
53159
60070
60071
60072
60015
60008
60073
60073
60073
60073
60075
53168
60159
53170
60118
60076
53171
60010
60081
60119
60082
60030
60010
53179
53181
53182
60180
60061
60020
60083
60084
60085, 60087
60118
60090
60030
60091
53192
60093
60096
60097
60098
60099

Travel Fee

$35
$45
$25
$20
$25
$35
$45
$45
$25
$45
$35
$35
$55
$75
$55
$35
$25
$20
$25
$25
$85
$25
$85
$25
$35
$25
$25
$55
$55
$20
$20
$25
$35
$25
$20
$25
$35
$55
$25
$55
$20
$20
$35
$65
$35
$25
$35
$35
$55
$25
$45
$20
$35
$20
$20
$65
$35
$35
$25
$35
$45
$25
$20
$35
$20
$65
$35
$25
$25
$55
$55
$25
$25
$25
$20
$20
$45
$25
$55
$25
$55
$55
$35
$35
$65
$25
$55
$45
$20
$55
$35
$35
$35
$35
$35
$45
$35
$55
$55
$25
$45
$45
$45
$55
$20
$35
$25
$45
$55
$55
$65
$20
$35
$35
$35
$35
$45
$20
$25
$25
$45
$25
$45
$45
$55
$35