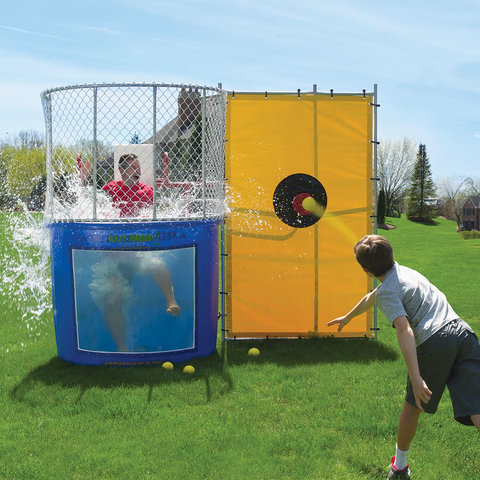 Setup Area: 10' L x 10' W x 10' H
Outlets: Water source within 50ft
This Dunk Tank holds 500 gallons and features a clear window to see the participant fall in when you hit the target.

With a dunk tank rental from PlayGround Games, you can dunk your boss, principal, friends, parents, co-workers, or even your kids! Players toss softballs at the dunk tank target, if they hit the target on the dunk tank, splash in goes the volunteer into the dunk tank filled with water.

Great for schools, summer camps, or church fundraising events. A dunk tank rental from PlayGround Games is a sure way to get soaked while having a good time. The Dunk tank takes 30-45 minutes to fill completely with a standard garden hose. Max participant weight is 250 pounds.

Required 6ft opening if you have a fence.