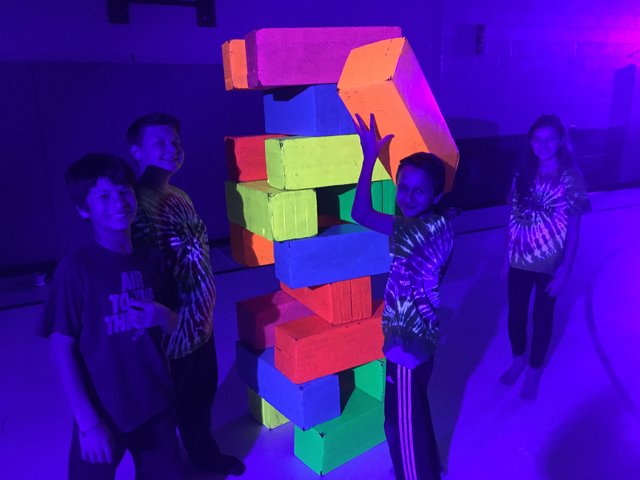 Glow Games Party Package
Actual Size: N/A
Setup Area: 40ft x 70 ft (Standard Elementary Gym)
Outlets: 1 x 20 AMP within 75'





$375.00

Please call to reserve this item

We offer a variety of party packages for your enjoyment. It is important that we go through a variety of details and party instructions before making a selection for your party including: venue, timing, age, games, etc. Because of this, we do not allow any birthday parties to be booked before speaking with one of our representatives. Please read the description below and then call our office for additional details and booking.
Age:
Our parties are designed for maximum fun and we have found that the sweet spot is 7+ y/o.
Duration:
30 minute set up, 60 minute party, 30 minute tear down.
Venue:
Venues must be rented a minimum of 2 hrs for our parties to included: set up, party, and tear down. It does take time to transform a space into full GLOW. The final 30 minute clients typically do cake, pizza, and sing happy birthday. We do not know the pricing of venues. We suggest you contact your venue of choice and ask them for 3 preferred dates/times that will work for you. After your confirm these, please give us a call to check our availability for your party.
Size of Venue:
We recommend a space minimum 50ft x 70ft for our parties. These are the rough dimensions of an elementary school gym.
Making the venue GLOW:
Because the majority of our parties are done with glow lights, the room must be dark to accomodate this. We have list of suggested venues to host your party.
Participants:
20 participants included for package price. 25-30 requires 1x additional staff member for $60. We do this so the coach to child ratio is as close to 1:10 and we maintain enough equipment. *Maximum 30 participants.
Equipment:
Some of our equipment is custom and one a kind to glow at parties. We cap at 30 participants because it offers the best experience as well as minimizes any wait times between turns. If we go over our game play doesn't work as well and we do not have enough equipment for all participants to play at once.
Staff:
2 PlayGround Games staff included with your party.
Equipment:
2 x Black Light Tripods to make your party glow.
Games:
Choose 4 interactive activities from the list below. A maximum of 2 inflatables can be featured in this package.

Select a total of 4 from:
Games Category
Inflatables Category (maximum 2 from inflatables for this package)