Grim Reaper sound/motion/LED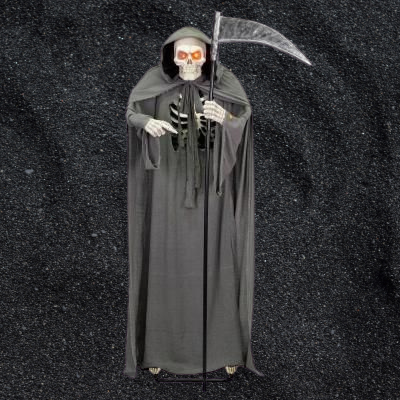 Setup Area: 3' L x 3' W x 6.5' H
Outlets: 1 x 20 AMP within 75'
Who goes there? The Grim Reaper knows who goes and where they are going...forever! Larger than life, he greets guests with a demonic grin as his hands and head flash with LED lights suggesting spirits and spooks from the great beyond. Put him on the porch or in the foyer and watch the Halloween fun begin!"
Grim Reaper prop stands a full six feet tall and consists of a ghostly skeleton head, body and hands garbed in a tattered hooded white robe that pools around the ankles and is secured at the waist with a rope belt. The Grim Reaper bears a faux sickle crafted of a wooden shaft and a latex foam silvery blade.

Sturdy prop has a black iron support for added stability.

Grim Reaper's head and hands flash green and black with LED lights.