Sports And Games Party Package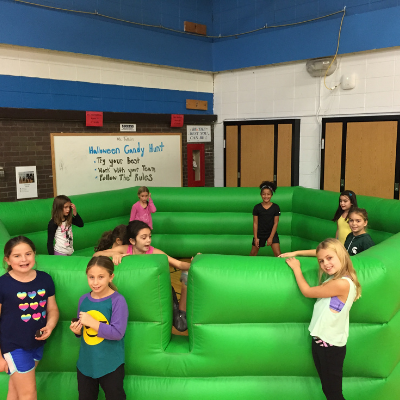 $359.00
Please call to reserve this item

Setup Area: 40' L x 70' W (Standard Elementary Gym)
Outlets: 2 x GFI required within 75ft
PlayGround Games offers AWESOME birthday party packages for your little rock star! It is important that we go through a few details and party instructions before making a selection of your package. We will need to know your: venue, time, date, name of the birthday boy/girl, age, and package selection. We do not allow any birthday parties to be booked online before speaking with one of our representatives. Please read the description below and then contact us for additional details.
Age Required: 7+ y/o
Timeline of party: Venues must be rented a minimum of 2 hrs for our parties to included: set up, party, and tear down.
30 minute set up - All of our parties have been designed to be loaded in and set up in 30 minutes.
60 minute party - Broken into roughly 4x 15 minute periods. There is a brief period to start every party where we go over safety instructions and introduce our coaches. We typically wait for at least 50% of the invited guests to arrive to do this introduction.
30 minute tear down - During this time clients can eat cake, pizza, and sing happy birthday. We take care of cleaning up our equipment/tear down/load out.
Venue Selection: PlayGround Games does not have a venue. We instead travel to a venue of your choice and set up the party there. You can have this at your home, park district, school, etc. PlayGround Games can share a list of preferred venues with you upon request. These venues have been selected based on the party package requirements. We do not know the pricing of venues as they change year to year and seasonally. Please contact a venue of your selection for any additional information on their offerings. We suggest you contact your venue of choice and ask them for 3 preferred dates/times that will work for you. After you confirm these, please contact us to check our availability for your party. Size of Venue: We recommend a space minimum of 50ft x 70ft for our parties. These are the rough dimensions of an elementary school gymnasium.
Participants:
20 participants included for the package price of $375.
21-30 participants included for the package price of $435. You receive an additional staff member for this price.
*We do not allow more than 30 children. This is done for two reasons:
1) We maintain a coach to child ratio as close to 1:10.
2) We maintain enough equipment for all participants to lessen any waiting times. Additionally, the party format does not work as well.
Staff Included: 2x Trained Playground Games staff included with the package price of $375.
Equipment Included: 4 selections from the list below and supporting accessories.
Game Selection Instructions: Choose 4x activities from the list of 15 options below.
For example, you can create a package featuring:
-4x games
-3x games and 1x inflatable
-2x games and 2x inflatables
Games Category
*Requires renting Party Rocker Speaker and MP3 to run contest correctly - More Info
Inflatables Category (maximum 2 from inflatables for this package. Inflatables adds $50/each to package)