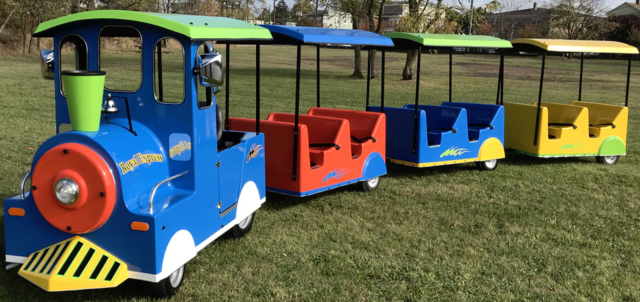 Setup Area: 85'L x 60'W x 10'H
Actual Size: 50'L x 10'W x 10'H
Monitors: Train comes with 1x conductor to drive
PlayGround Games offers a brand new electric-powered trackless train. As opposed to gasoline-powered trains, this unit can also be driven indoors for extra excitement! This train has three large cars, bright colors, a train bell, and train horn. With a carrying capacity of 16-18 riders (6 children or 4 adults per coach), there is plenty of room for multiple riders and families. This train can ride on hard surfaces only such as concrete, asphalt, or indoor surfaces. Our Trackless Train comes with a conductor and for extra fun ask about our train station. *Optional Train Depot available for $199 which creates a safe area to line up. Alternatively, cones or caution tape can be used.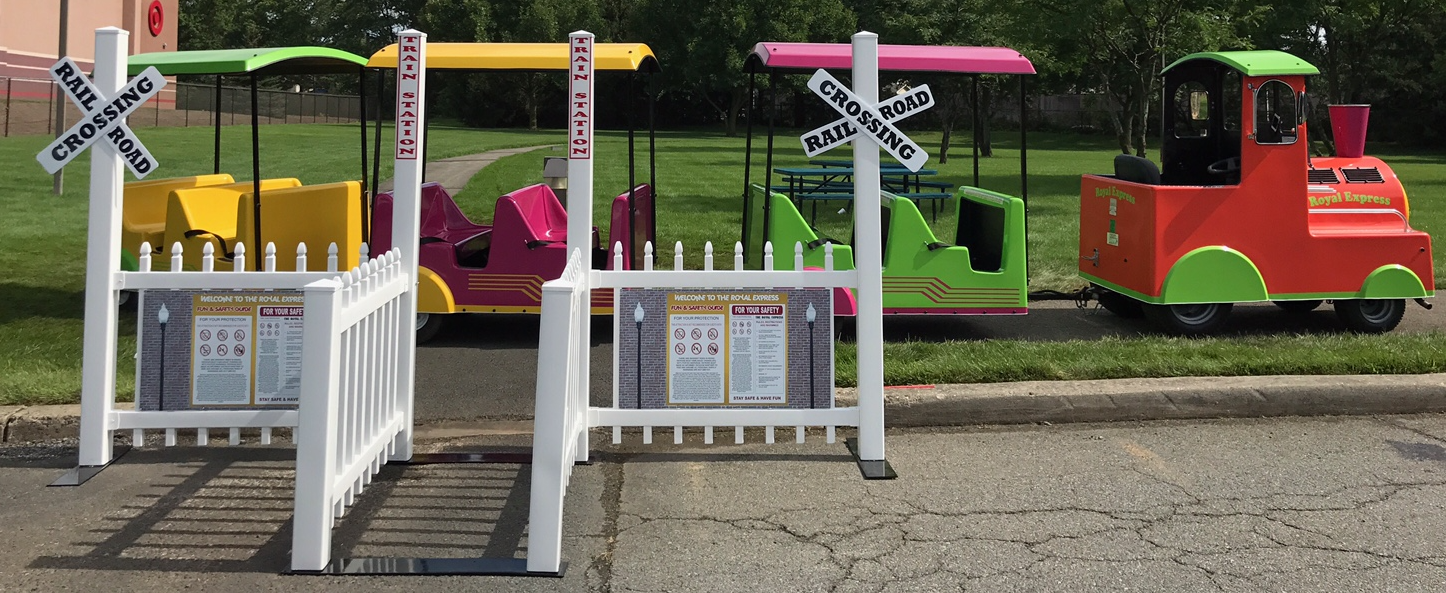 Big Truck Events

What goes better with big trucks then a train ride? Go for a ride with your family and friends on this exciting adventure. A path can be created around a park, downtown area, or in a large circle for compact layout. Contact us about additional ways to
Fall Fests
Weather getting colder, leaves changing colors, hot apple cider back on the menu? Fall is quickly approaching and there is no better time for a themed train ride through a pumpkin patch or hay ride. Include our Trackless Train at your next event.

Polar Express
Are you looking for a way to take your Winter events to the next level? Polar Express is a fantastic addition to any event to feature a center piece that will have families and kids eyes light up. Pay per ride, themed events, or in addition to a Santa Claus experience. Featuring LED glow lights under the train.
Capacity: 120 riders per hour
Trackless Trains are great for:

Indoor Mall Rides

Rentals/ Private Events

Charities

Churches/Synagogues

Youth Groups

Zoos

City Tourism Attractions

Community Organizations

Non-Profit Organizations

Family Fun Trains

And More!
$759 for 2 hours, $189 for each additional hour.
(2 hour Minimum)