Ultimate Haunted House Package 95 pieces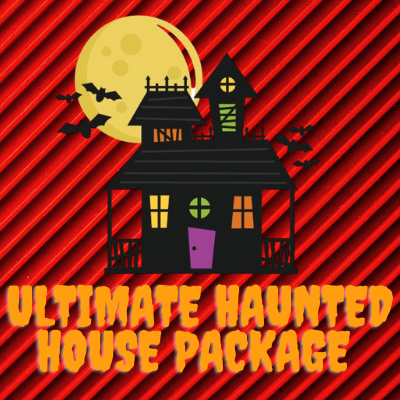 If you are looking to throw the most amazing Haunted trail, Haunted House, Trunk or Treat, or you are just crazy like us for Halloween, you have come to the right package! This package includes FREE set up of all props and expert layout advice.

OVER $1,000 Value Free.
GET FREE -
Life Size Wood Coffin
GET FREE

- Spider Web Gobo Projector
GET FREE
- Flying Bats Gobo Projector

GET FREE - Severed Limbs
GET FREE - Gargoyles
GET FREE
-
Giant Infested Rat
This package includes all of our best items for a turn key haunted house:
Spiders:
Giant 7ft

Wolf Spider Red Glow

Black 6ft Spider (5 pieces)

Green Glow Webs (10 pieces)

White Spider Webs (10 pieces)
Hanging Ghouls:
Hanging Ghost Bride (sound/motion/LED)

Hanging Scarecrow Clown (2 pieces)

Hanging Skull Reaper (2 pieces/LED)

Hanging Skull Witch (LED)

Hanging Ghoul (2 pieces/sound/motion/LED)

Hanging Creepy Witch (sound/LED)

Hanging Fire Ghoul

Hanging White Ghosts/Spirit (2 pieces)
Skeleton:
Bones and Skulls (30 pieces)

6ft Sabertooth Tiger (sound/motion/LED)

5ft Skeletons Glowing Eyes (3 pieces/LED)
Animatronics:
Creepy Towering Clown (sound/motion/LED)

Pumpkin Head (sound/motion)

Scarecrow Butcher (sound/LED)

Grim Reaper (sound/motion/LED)